What is the COVID-19 situation in the Philippines?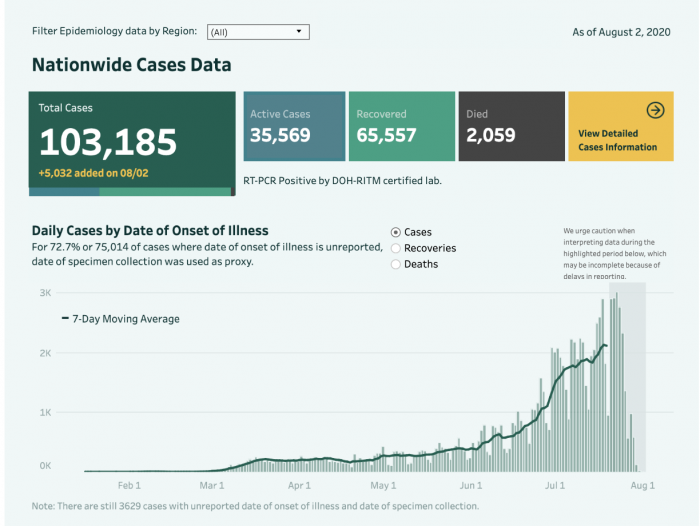 UPDATE 3 August: Metro Manila & other areas in the Philippines revert to stricter measures as COVID-19 cases continue to rise. This means restriction on movement, transportation, businesses, and services. Metro Manila, Bulacan, Cavite, Laguna, and Rizal will be under MECQ from August 4-18(Source: CNN Philippines)
Here are the measures against the spread of COVID-19 in the Philippines. Metro Manila was at GCQ, and is now going back to MECQ. This means movement, transportation and access to services will be restricted and delayed. See further details here in
the Manila Standard
.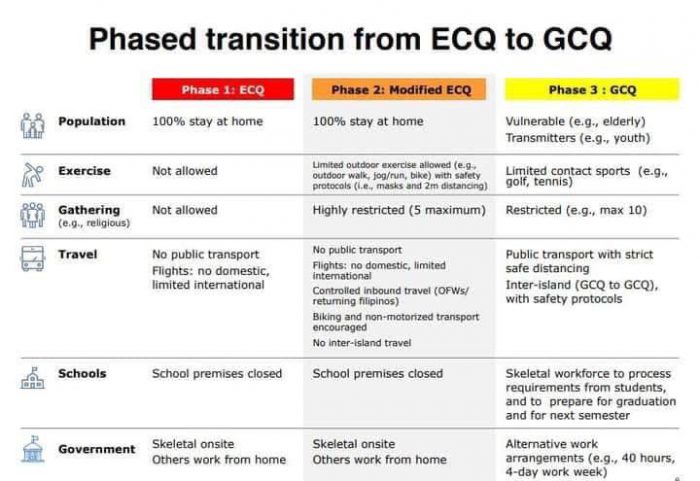 Quarantine passes & restriction on movement:  Quarantine passes will be required once again in Metro Manila, Bulacan, Cavite, Laguna, and Rizal as these areas shift back to modified enhanced community quarantine. These passes are used to limit the people allowed to go out. Only one pass is issued per household so they can purchase food and medicine. (Source: CNN Philippines)
Public transportation: is not allowed for areas under MECQ, and some transportation services will remain limited. (Source: Department of Transportation)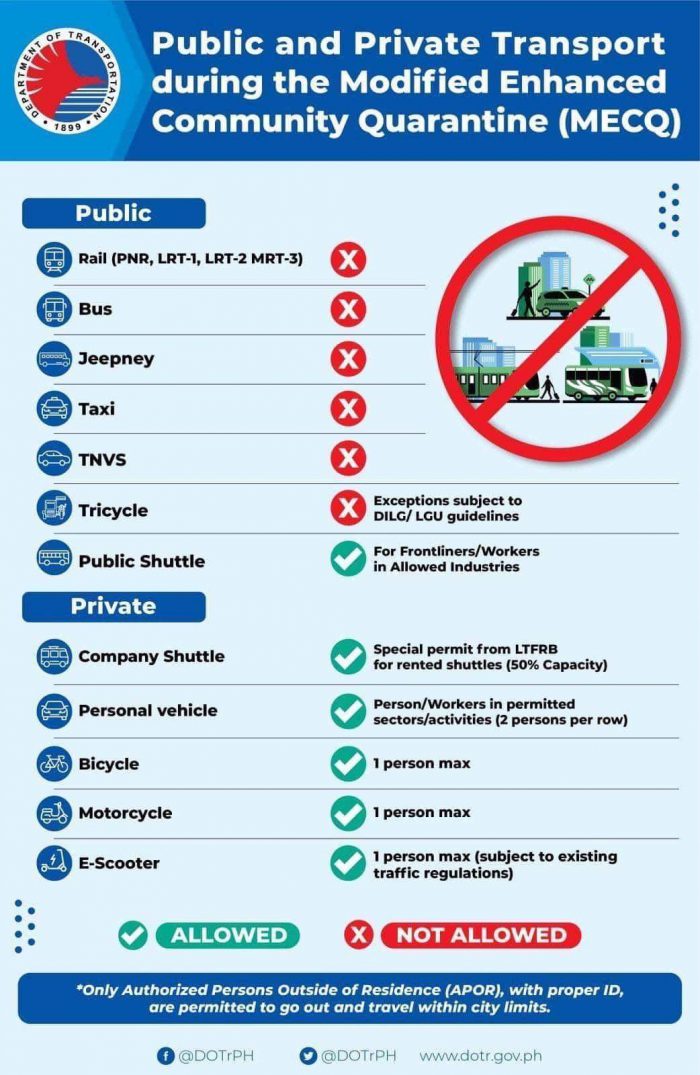 Domestic travel: With evolving national and provincial government restrictions and limitations on travel has made it challenging for local and international travel. The Philippine Airlines have issued a statement on this: HERE. As local governments of different provinces may have their own restrictions and guidelines, it is important to check for these ahead of time and expect potential delays.
International Travel: The Ninoy Aquino International Airport is the only airport operating international flights. There will be roadside check points, and to travel to the airport, travellers must be able to show a flight ticket which is schedule to fly within 24 hrs. To travel to Hong Kong, travellers are required to fulfil several requirements: read more here. Check with your airline for updates and guidance.
Domestic helper processing:
Recruitment agencies are allowed to operate under the current level of restrictions. However, restrictions to movement & travel pose challenges and delays. Domestic helpers are very likely to live in other provinces in the Philippines and need to travel to Metro Manila to complete their processing and fly out of the only operational international airport. See below for more details.
Snapshots
Resources
What does this mean for domestic helpers who are in the Philippines right now waiting to come to Hong Kong to begin work?
To answer this question, we go back to what is needed for a domestic helper to deploy to Hong Kong.
These are the steps for a domestic helper to deploy from the Philippines for a new job in Hong Kong:
Report to our Partner Agency's Office
Receive a valid "Fit To Work" Medical Certification,
Have a valid HK Domestic Worker Entry Visa
Receive a valid their Overseas Employment Certificate (OEC) from the Philippine Overseas Employment Administration (POEA)
Book flights to Hong Kong
Arrange to fulfil Hong Kong's requirements for pre-boarding COVID-19 test and hotel quarantine in Hong Kong
Arrive in Hong Kong and go through hotel quarantine
Attend the PAOS seminar – Currently Postponed***First-time workers are also required to undergo domestic work training and PDOS and OWWA
We'll go through each of these steps below:
1.Going to the employment agency
Different cities and provinces in the Philippines have varying restrictions which are enforced. If the domestic helper is in a different province or region, they may still be under lockdown and agency branches are not able to operate.
Lack of transportation options in the Philippines: limited transportation options within Manila, no buses going between provinces, and very limited domestic flights.
Philippine Airlines (PAL) the flag carrier of the Philippines has issued an appeal for all travellers to be aware of changing restrictions from the local and international governments: HERE. There are different regulations between local government units (LGUs) in the Philippines that are affecting travel as well.
2. Receive a "Fit to Work" Medical Certification
The Medical Certificate is valid for 3 months. If the certificate expires before the domestic helper is able to travel, the medical exams will need to be redone. The usual timeline for a medical certificate is 10-12 days. This costs around HK$400-$600 depending on the clinic.
Only a few accredited medical clinics are open.There are very few accredited clinics in the provinces. There may be delays to booking appointments.
What is the Medical Certificate and why are domestic helpers required to get it? Read: HERE
3.Have a valid HK Domestic Worker Entry Visa
If the visa has expired or is going to expire before the flight date, you will need to reapply for the visa at Hong Kong Immigration Department and an additional visa fee of $230 to HK Immigration will be incurred.
Timeline is around 1 week from the day the application is submitted
Employers will need to sign a supporting letter and countersign a new authorization letter for us to pick up the visa.
Other required documents:
A supporting letter from domestic helper stating that why she cannot come to HK before visa expiry date
A new ID988A Form signed by Domestic helper
Domestic helper's passport copy
A copy of the expired visa
4. Getting the Overseas Employment Certificate (OEC) from the Philippine Overseas Employment Administration (POEA)
A backlog of OECs to be processed is expected to delay the process for several weeks. It is uncertain what timelines will look like.
There may be additional delays if original documents need to be couriered from HK to the Philippines and/or between the branches in the Philippine provinces to Manila
If the OEC has expired, it can be renewed at the airport at the Labor Assistance Centers. See official advisory: HERE.
What is an OEC? Read: HERE
5. Book Flights to Hong Kong and Declarations for Travel
What does travel from the Philippines to Hong Kong look like during times of COVID-19?: HERE.
6. Arrange to test for COVID-19 and fulfil Hotel Quarantine Requirement
7. Book Flights
This aspect will take considerable planning. Read more: HERE
8. Attend the PAOS seminar – Currently Postponed
All Filipino domestic helpers are required to attend Post-Arrival Orientation Seminar (PAOS) at the Philippine Overseas Labor Office (POLO). However, these are currently suspended and have not yet resumed.
***First-time workers are required to undergo domestic work training and PDOS and OWWA
First-time domestic helpers will need to go through a TESDA-Accredited Domestic Worker training and obtain a Domestic Work NC-II certificate. They will also need to go through a Pre-Departure Orientation Seminar (PDOS) and Overseas Worker Welfare Administration (OWWA) Training for First timers – these are run by government agencies.
Timelines:

TESDA Training (2-3 weeks), Training centers are closed. Reopening of training centers and the relevant government offices will be varied across the Philippines.
PDOS (1 day training), This is now online. The training schedule varies depending from province to province.
OWWA Seminar (3-day training) This is now online. The training schedule varies depending from province to province.
What this means for domestic helpers currently in Hong Kong, who need to return to the Philippines:
For domestic helpers in Hong Kong, who need to fly to the Philippines (those processing with a new employer and have broken or terminated contracts, as well as those required to take home leave).
Employers and workers are recommended to limit travel to the Philippines until transportation options are provided, unless absolutely necessary. Workers arriving to the Philippines, Manila International Airport in particular, will not have access to flights or public transportation to their places of origin, potentially leaving them stranded in Manila.
Can domestic helpers process locally, in light of the COVID-19 travel challenges? Read more: HERE
Requesting Extension of Stay: Domestichelpers can apply for a visa extension by going to the Immigration Department. Read how to do this: HERE
Deferring Home Leave. To do this: To change the date for the home leave arrangement, write a letter to the Foreign Domestic Helper Section, HERE. Special note for March 2020: If the reason is related to the coronavirus situation, include this as the reason. Read FAQs on Home Leave, HERE.
Travel between Hong Kong and Manila: Travel has been affected by regulations and it is expected that they will continue to be impacted in the near future. Read more: HERE
Quarantine in the Philippines: All returning Overseas Filipino Workers are required to go through testing and quarantine. Read more about Quarantine in the Philippines: HERE
Hiring right now?
If you found this article helpful, please consider donating today.
Fair Employment Agency is a nonprofit agency. We put a lot of work into producing high quality, accurate and updated information resources because when employers and domestic helpers are informed, they are empowered to make good choices. If you found this article helpful, please consider donating through Fair Employment Foundation (tax-deductable for amounts over HK$100). Click HERE for donation instructions.


Last updated on August 3rd, 2020